Legends of Tomorrow
Returning Series
5
Seasons -
82
Episodes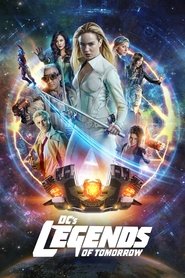 Legends of Tomorrow stream ist eine US-amerikanische Superhelden-Serie aus dem Hause The CW, die als Spin-off der zuvor etablierten Formate Arrow und The Flash fungiert. Der Zeitreisende Rip Hunter muss ein Team aus Superhelden und Bösewichtern zusammenstellen, um die Welt vor dem Untergang zu bewahren.
Die Superhelden-Serie Legends of Tomorrow ist im gleichen Universum wie Arrow und The Flash angesiedelt. Seit der Ankunft des grünen Bogenschützen und des roten Flitzers hat sich die Welt allerdings gewaltig verändert. Helden alleine reichen nicht mehr, um die Menschen von Star City und Central City zu beschützen. Eine finstere Macht erhebt sich am Horizont – und um diese zu besiegen, benötigt es mindestens eine Handvoll lebender Legenden.
Nachdem der Zeitreisende Rip Hunter eine düstere Vision der Zukunft gesehen hat, bleibt ihm keine andere Wahl, als ein Team zusammenzutrommeln, das sowohl aus Helden als auch aus ihren Bösewichtern besteht. Nur so kann die gigantische Bedrohung, die sich mit unheilvollen Vorzeichen ankündigt, abgewehrt werden. Das Überleben der gesamten Menschheit steht auf dem Spiel. Doch wie wird Rip Hunter seine – im Grunde verfeindeten Wunschkandidaten – zusammenführen?